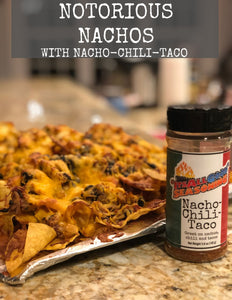 Nachos!!!
Notorious Nachos with Nacho-Chile-Taco
As the frigid temperatures continue to roll in and we get closer to Super Bowl Sunday my mind turns to football comfort food. Today I'm sharing my Notorious Nacho Night recipe.  Its "Notorious" because all my kid's friends go home telling their parents about how awesome they are.  This "agile" recipe is sure to please everyone in your family because you can customize the ingredients to your liking.   The secret to it is our brand new seasoning "Nacho-Chili-Taco"!
1. Season and cook the meat you'd like to include in your Nachos with Nacho-Chile-Taco (season generously for more heat).  I also dice up an onion to cook with the meat.  Set aside once done.
2. Strain together a can of Rotel (diced tomatoes and chiles) and 2 cans of beans (I like using pintos and garbanzos)
3. Combine the meat, Rotel and beans in the strainer and mix everything together.
4. Line a cookie sheet with tin foil, spray with cooking oil and layer it with tortilla chips (usually half bag).  Add the meat/rotel/bean mix evenly across the chips.  Next, layer shredded cheddar cheese on top. 
5. Repeat the same layering above for a double layer of nachos (other half bag of chips)
6. Place the nachos in the oven at 350 degrees for 10-15 minutes 
7. Cheese should be melted throughout and ready to serve.  Enjoy!
---
1 comment