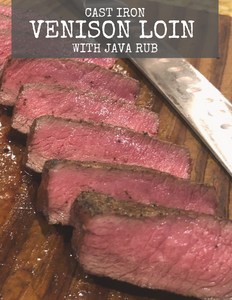 Cast Iron Venison with Java Rub
As we get closer to fall and the temperatures start to come down, I know it's getting close to hunting season. This is my favorite cast iron venison loin recipe that is absolutely fantastic.  Even if you don't like venison you can use this with a beef filet as well.  The flavor penetrating power of Java Rub makes it easy, quick and delicious! No more marinating meat for hours!
1. Preheat cast iron skillet in the oven to 350 degrees
2. Season venison loin with "Its All Good Seasoning" Java Rub
3. Place venison loin on preheated skillet and place back in the oven for 3 minutes
4. After 3 minutes flip the venison loin and cook for another 7 minutes at 350 degrees.
5. Pull cast iron skillet out of the oven, place venison on a plate, cover with foil and let rest for 10 minutes.
6. Slice perpendicular to the grain of the meat and drizzle a little Worcestershire Sauce over top.
7. Meat should be medium rare and ready to serve.  Enjoy!
---
2 comments